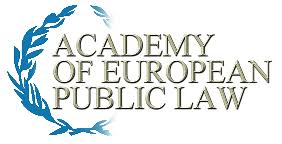 It has been a privilege taking part at the Academy of European Public Law (AEPL)! It has been tough 1 1/2 years, but I learned a lot and made friends for life. Overall, a rewarding experience!  Founded in 1995, the Academy is the oldest and most esteemed educational establishment of the European Public Law Organization (EPLO).
It comprises a set of intensive study modules along with an equal set of assignments, a number of high-level guest lectures, and a final thesis. Below one may find the list of modules for the AEPL's 2017/2018 sessions:
Prof. Patricia Jonason (Södertörn University),The right to privacy from a European perspective
Prof. Oswald Jansen (Maastricht University), Developments in law enforcement strategies and powers: the influence of anti-terrorism policies on administrative law
Prof. Ciarán Burke (Friedrich-Schiller-Universität Jena), From custom to certainty – an effective international law for the 21st century
Prof. Thomas Perroud (Université Panthéon-Assas, Paris II), New perspectives in administrative law
The topic of my final thesis was a hard nut titled "Imposing regulation on advanced algorithms". It built upon a series of lectures on administrative law during the 2017 session of the AEPL, the essence of which was further developed to form a consistent and state-of-the-art scientific contribution. This work has been supervised by Prof. Georgios Yannopoulos, Law School, National and Kapodistrian University of Athens, and I successfully defended it during the Academy's 2018 session. The professorial panel consisted of:
Prof. Gordon Anthony, School of Law, Queen's University, Belfast (Academy Director)
Prof. Jean-Bernard Auby, Emeritus Public Law Professor, Sciences Po, Paris
Prof. Spyridon Vlachopoulos, Law School, National and Kapodistrian University of Athens
For successfully accomplishing all AEPL prerequisites I was awarded the Intensive International Master of Laws (I.I.LL.M) in European Public Law.
Last but not least, I would also like to express my regards to my academic teachers. It was great to have you guiding us during this adventurous trip. For this, as well as for your engagement and support throughout the classes, I would like to thank you.
Photos (clockwise from top-left):
With Academy Director Prof. Gordon Anthony
AEPL 2018 class
EGPL group photo 2018
AEPL 2017 class
Guest lecture by Prof. Rebelo de Sousa
During some presentation of mine
Photo credits: ELGS, https://egpl.eplo.eu/index.php/gallery/2018-pix
Links: