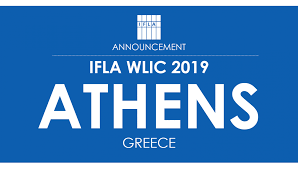 It's been almost a year since joining the International Federation of Library Associations and Institutions (short: IFLA). At the same time, I became member of the IFLAPARL community, the dedicated IFLA section for Library and Research Services for Parliaments. Overall a valuable and rewarding experience!
IFLA WLIC 2019 conference
I perceive parliamentary libraries and research services as the drivers of parliamentary innovation. Hence, I am looking forward to the 85th World Library and Information Congress (WLIC) of IFLA, which will take place from August 24 to August 30, 2019, in Athens, Greece. Indeed the IFLA WLIC 2019 in Athens presents a great opportunity for professional cooperation and I am more than happy to be able to contribute to the discussions that are going to take place on home soil. Discussions that have the potential to define the future of our profession for years to come. That being said, here are some of my recommendations to be discussed during the conference:
The increasing demand for information naturally leads to open data. Open data concepts may take many forms and a particularly interesting one has to do with the use of certain legal document standards for the specification of parliamentary/ legislative documents. See, for instance, the Akoma Ntoso XML schema and the OASIS LegalDocumentML Technical Committee.
Post-Legislative Scrutiny (PLS)
PLS is a rather novel concept, but is being intensively studied. Several parliaments implement PLS and a set of principles and good practices have been already recognized. If parliaments get it right, PLS has the potential to gradually become a stand-alone parliamentary function.
Parliamentary strategic and operational plans
The making of strategic plans per se is nothing new, but their development (and consequent implementation) in the institutional framework of parliaments needs to be carefully planned. In a dedicated session, parliamentary research services could be invited to discuss the challenges they faced during development and implementation of such plans. The development of a set of guidelines could also be considered.
The above topics may complement the broader discussion for a code of ethics for parliamentary research service​s. Additional areas of interest include data visualization and how to deal with increased demand. To conclude, do not miss the IFLA WLIC 2019 conference in Athens. It will surely become an unforgettable and thought-provoking experience for every participant!

Links: