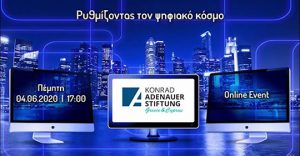 On 4 July 2020, I had the privilege to co-organize, jointly with the Konrad Adenauer Foundation, a webinar with the title 'Regulating the Digital World'. The event was based on my recent book Imposing Regulation on Advanced Algorithms (2019, Springer).
Speakers included:
Niki Kerameus, Minister of Education and Religions
Dr. Christos Dimas, Deputy Minister for Developments and Investments
Konstantinos Kollias, PhD, President, Economic Chamber of Greece
Prof. Georgios Yannopoulos, Assistant Professor for IT Law and Legal Informatics, National and Kapodistrian University of Athens
Prof. Spyros Vlachopoulos, Professor of Constitutional Law, National and Kapodistrian University of Athens
Dr. Fotis Fitsilis, Head of Department for Scientific Documentation and Supervision, Scientific Service, Hellenic Parliament
Below the contribution to the webinar (English subs are underway).
The full program to the event can be accessed here.
The most significant remarks made by the speakers are summarized here.
********